We have decades of experience servicing and installing garage door openers from every manufacture. Throughout our experience there has been one brand that has stood out above all others as being the most well-built, longest lasting openers, and those are made by LiftMaster. Below are few examples of the most popular models of residential garage door openers that we recommend and carry.
LiftMaster Garage Door Openers
LiftMaster Secure View Ultra-Quiet Belt Drive 87504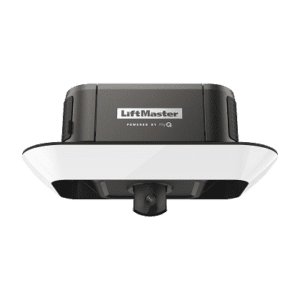 Built-in camera adds video and 2-way audio communication to the myQ® app.
Control, secure and monitor the garage with the myQ app- anytime, from anywhere.
360° light ring uniformly brightens every corner of the garage with 2,000 lumens of long-lasting LED light.
Battery backup lets you get in and out when the power is down.
Ultra-quiet DC motor and strong belt drive system ensures for comfortable living spaces near the garage.
Works with Amazon Key for for convenient and secure In-Garage Delivery of Amazon packages and groceries – watch deliveries happen in real-time.
myQ Diagnostics in the myQ app provides real-time insights for your garage door via the Health Report. Receive alerts and error codes in the app if an issue arises and connect with a professional for services if needed.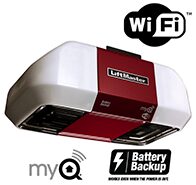 Powerful, Reliable, Durable and Ultra Quiet
Built in Wi-Fi, monitor and control your opener anywhere using your smartphone, tablet or computer
Get alerts to ensure the status of your garage door on up to 10 devices
MyQ app is FREE with no annual fee, always know your home is secure
Homelink compatible, program your Homelink in your car to control the opener
Battery Backup, when the power goes out you will still have access to your garage
Time-to-Close feature, automatically closes your garage door after a programmed number of minutes
Security+ 2.0 Encrypted Controls, NEW code with every click
Posilock, protects against forced openings
Soft Start & Stop for smooth operation
Protector System, auto reverses the door if there is any obstructions
Includes:
(2) Visor Remotes
(1) Smart Panel Control, motion sensor detect activity and illuminates your garage
(1) Wireless Keyless Pad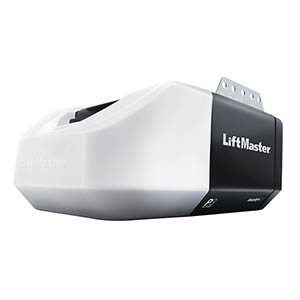 Steady Performance, Industrial Strength, Trusted Reliability
Homelink Compatible, program your Homelink in your car to control the opener
Security+ 2.0 Encrypted Controls, NEW code with every click
Posilock, protects against forced openings
Soft Start & Stop for smooth operation
Protector System, auto reverses the door if there is any obstructions
Includes:
(1) 3-Button Remote
(1) Multi-Function Panel